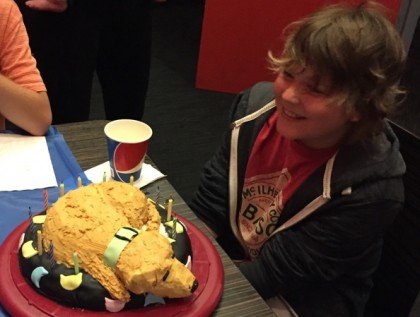 Here is the birthday boy, looking very happy with the cake he commissioned. 
He'd been very specific – Shaggy, asleep in the bed that he had made for the cats – and had even sent me photos!  
I made a circular sponge cake to form the bed, and covered it with black fondant.  Shaggy himself was carved to shape from several pieces of sponge cake, sandwiched together in place, and covered with buttercream I had tinted to match his coat.  Final details – the lines of his eyes, black nose, green collar, black collar buckle, and multi-coloured cats were shaped from fondant and added last.
The final result was a pretty good likeness, I think 🙂