Leave a cardboard box on the floor, and our cat Bean will sit in it.  This summer, he particularly loved the boxes we bought peaches in, so Ethan thought this would be a great idea for a cake.  Yay!
We made a chocolate sponge, cut it to size and covered it with blue fondant, then added layers more cake which we carved into a cat-like form – taking the dozing Bean as our inspiration.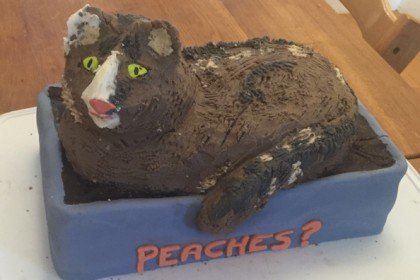 Ethan helped make and colour the fondant, cut the cake to form the peaches box, and add texture to his fur.
It felt kinda weird eating out pet, but he tasted great!!