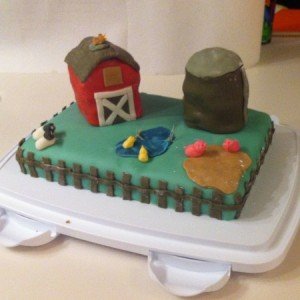 Another first birthday cake, this is a farmyard scene with dutch barn (complete with rooster on the roof), grain silo, sheep, ducks in a duckpond, and pigs in the mud, all surrounded by a picket fence.It was great fun to make, especially the little piggies' curly tales and the ducks' beaks.The cake itself was a new departure – carrot cake with cream-cheese frosting.
A very different texture from my usual victoria sponge, it had less structural integrity which presented some interesting construction challenges – which is why the silo seems to be buckling a little at the base.
It looked and tasted great, and was devoured with enthusiasm by kids and adults alike.