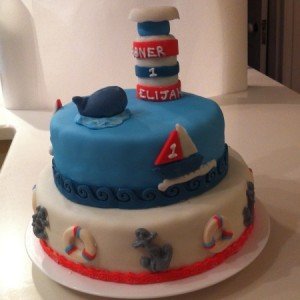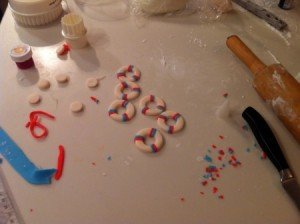 I was asked to create a nautical themed cake with a red, white and blue colour palette, for a one year old little boy's birthday.  I think I rose to the challenge!
This cake is victoria sponge, experimentally sandwiched with dulce de leche instead of buttercream, at the mother's suggestion – which seemed to work really well.
On the top, is a lighthouse with the baby's name, and a blue whale surfacing.  Fondant sail boats ride fondant waves around the top layer, and anchors and life preserving rings decorate the bottom one.
The lighthouse was simply several small rounds of cake piled up and wrapped in fondant, with a blue fondant "light" at the top.  Smaller cookie cutters were perfect for the life preserving rings, which I cut from cream-coloured fondant and decorated with blue and red strips.
The anchors were made from white chocolate tinted grey with food colouring, and the blue whale, on breaking waves of white and blue fondant, was made from more white chocolate – this time tinted blue.
Parents and party guests loved the final result, as did I.