With a house-full of Doctor Who fans from out of town, this made the perfect cake for an impromptu birthday party.  I sandwiched multiple squares of cake with blue buttercream until it reached the right height and carved the top to shape, covering the whole thing in blue buttercream to form the basis of our TARDIS.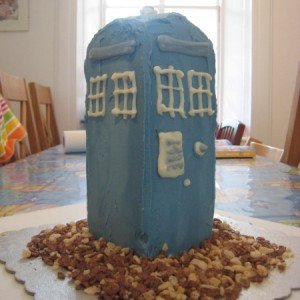 The Police Box sign was made as a runout, in white royal icing with blue writing, and attached that to the front door after the windows and other details had been piped in place.
It was the birthday boy's inspired idea to stand her on a base of plain and chocolate popped rice breakfast cereal!
(If you want to find out more about Doctor Who and the TARDIS, here is the official BBC website and some useful info on Wikipedia.)