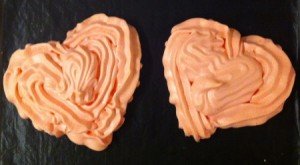 We wanted something simple but striking to welcome Daddy back from a trip away. Pink meringues fit the bill!
The boys and I whipped up some egg whites and sugar,  adding red food colouring until we had a suitably Valentine-ish pink.  Then we piped large hearts onto teflon paper using a large piping nozzle and baked them in a cool oven.
After letting them cool in the oven, we ate them piled with whipped cream and fresh berries. Yummy!